The sixth season of Big Brother Naija, the most popular reality television program in Africa, featured 22 contestants from throughout the nation vying for a prize package totaling N90 million over the course of 72 days. With the new edition tagged Big Brother Titans coming up, let us take you through some BB naija 2021 house mates that made the show fun.
The BBNaija 2021 Housemates are here:
Angel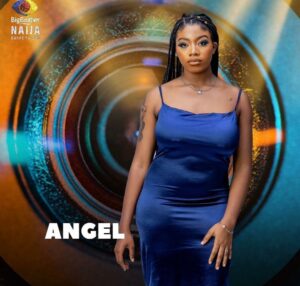 21-year-old Angel Agnes Smith is a poet and writer who sees herself as a likable, easygoing, and pleasant person who loves to tell stories. She enjoys reading, watching movies, and sleeping the most. You can find her on the beach composing poems if she is not out dancing at clubs.
My name is Angel, which is appropriate considering that I am a true goddess.
Angel prides herself on being a feminist, and her friends call her a drama queen. This 21-year-old enjoys getting to know new people and enjoys nothing more than to analyze them. She thinks that participating in Big Brother Naija will help her begin her career as a writer and filmmaker. She also thinks that, "when I'm not under pressure," she is "attractive and also hilarious."
Arin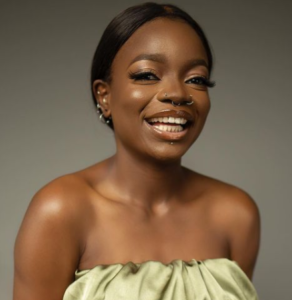 29-year-old Fashion designer Arinola Olowoporoku is also an independent arts and culture curator who is committed to advancing modern African visual arts. She was reared in a polygamous household in Lagos and identifies as a feminist millennial Pisces.
She describes herself as "having no filter most of the time," and she is an emotional, powerful, creative, opinionated, and shamelessly vocal person. She loves to live life freely and wants to live in the Big Brother house because she thinks it is a place where young people like her can flourish and discover who they are.
Arin enjoys piercings, being eclectic, and dying her hair blue.
Beatrice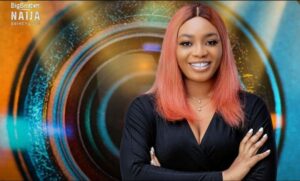 28-year-old Beatrice Agba Nwaji is a rising actress and fashion model. She is the sole parent of a son who is five years old. She received her degree in marketing from the University of Port Harcourt.
Beatrice wonders how she is able to perform the things she does without having studied how to do them, leading her to assume that she was "made with a specific clay." She has excellent singing, dancing, basketball and football skills, and she also does fantastic hair styling. She is a gifted software engineer, and regardless of whether she is familiar with the game, she consistently comes in first place or wins when it comes to games.
Boma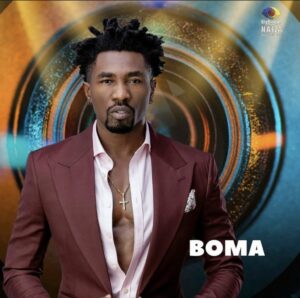 Boma Akpore, 34, was raised by his single mother and grandmother on the streets of Yaba in Lagos. Given that he had to work to pay for education, he described his childhood as "very challenging." His life's high point came when he saved enough money to pay for film school, an accomplishment that was subsequently surpassed by his graduation. Dropping out in his final year was one of the hardest decisions he had to make because he couldn't make ends meet, but that achievement was overshadowed by his graduation.
Boma calls himself "exceptional" and characterizes himself as "attractive, intellectual, adventurous, strong and fit." He hustles on his acting career by working as a masseuse by day and a bartender at night to make ends meet.
Cross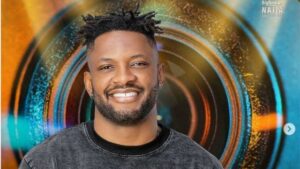 30-year-old Fitness fanatic and businessman Ikechukwu Sunday Cross Okonkwo refers to himself as "a bad kid with a decent heart." Cross, who is still single, isn't scared to offer relationship advise because she thinks that most people are unaware of the importance of communication in partnerships.
Cross can be seen playing the drums or getting hype on the mic on a few Amapiano or House tracks when he is not watching movies, traveling, or going out to clubs. He considers himself to be an outgoing, impulsive, talented dancer who wears his heart on his sleeve.
Emmanuel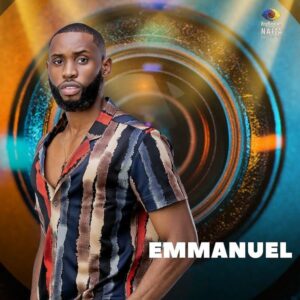 The first Nigerian to win the Mister Africa competition was Emmanuel Umoh. Originally from Akwa Ibom, Emmanuel now makes his home in Port Harcourt, Rivers State, where he also owns and operates a gym and a men's and women's salon and spa.
This 24-year-old, who describes himself as a risk-taker, enjoys exploring new places, interacting with people, and exploring original concepts. Emmanuel considers his physical and social qualities to be advantages that help him attract a lot of attention. He is a risk-taker who believes in taking advantage of any chance.
He admits to being a "sucker for love" and holds the view that "a solid relationship goes a long way to developing one's life." He is now single.
Jackie B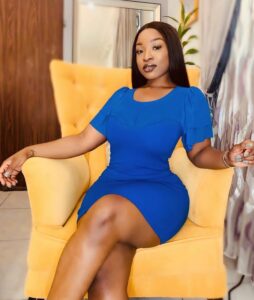 29-year-old Jackie Bent is a dedicated worker who loves life. She is a happy single mother. She attended university in the UK, where she gave birth to her son, and is a qualified event and wedding planner as well as an interior designer. She enjoys time alone as much as having fun and being with the people she cares about. She calls herself a "introverted extrovert" and claims to be shy but self-assured.
She is motivated by wealth and success and wants to make sure she can provide for her family as well as herself. She is constantly looking for adventure and frequently gets bored. She also appreciates making life beautiful and is resourceful and creative.
Jaypaul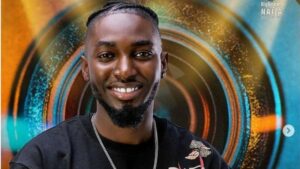 29-year-old Paul Ephraim is a musician and actor from Lagos who thinks entering the Big Brother Naija House will be the ideal way to advance his still-emerging career in Nigeria's entertainment sector. He describes himself as "entertaining, self-assured, playful, honest, and pleasant."
His interests include dancing, cooking, making movies, and creating music. Jaypaul places a lot of importance on his job, but he also values close family ties. His two best roles to far are son to a wonderful mother and brother to two wonderful sisters, thus it makes sense that losing his father is one of the lowest periods in his life.
Jaypaul wants to demonstrate that he can act as a catalyst for a series of constructive actions.
Liquorose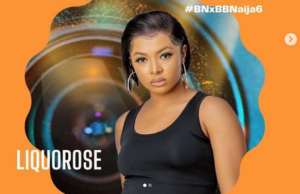 26-year-old Dancer Roseline Omokhoa Afije performs professionally.
Roseline acknowledges that she doesn't get along well with those who talk too much even though she enjoys meeting new people. She describes herself as "a down-to-earth go-getter," adding that she is tomboyish but has the ability to dress up when necessary.
Roseline enjoys acting, singing, cooking, reading, and writing. She also enjoys running her own fashion business.
Her love of dancing changed her career from being a video vixen to being the leader of a girl dance ensemble. Roseline constantly finds time to travel despite working hard every day to care for her family and loved ones. She emerged first runner-up of the show.
Maria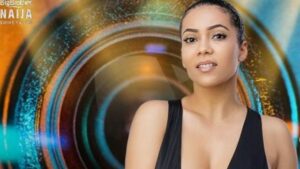 29-year-old Real estate agent Maria Chike Agueze, a former flight attendant who also loves acting, dancing, and cooking. Maria takes great satisfaction in being a loving, compassionate person who is constantly seeking out new experiences. She has visited every continent but Antarctica during her travels, which have brought her around the globe.
Although she describes herself as "a symbol of love in human form," when people cross her or take her for granted, her severe side frequently surprised them. "When completely insulted, I can get extreme."
One of her favorite character traits is having a go-getter attitude. Despite working long hours, Maria likes to relax with a glass of red wine.
Nini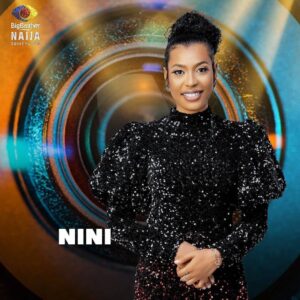 27-year-old Nigerian-born and -bred Anita Singh is an economist and businesswoman in the fashion industry. She is one of four siblings and adores her devoted mother very much.
She attended the University of Abuja and currently resides in Abuja. Cleaning, cooking, traveling, and photography are some of her interests. She calls herself "curious, dramatic, ambitious, and fun," and she acknowledges that she enjoys being the focus of attention.
Nini is competing in Big Brother Naija because she thinks it will provide her a large platform to improve her life. She enjoys trying new things and believes that doing so will prepare her to meet obstacles head-on while having fun
Niyi
.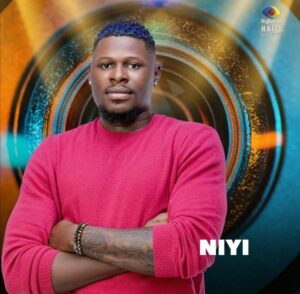 33-year-old Adeniyi Lawai computer engineer from Oyo State. Though he was once in the running to be a professional basketball player, that ambition was quickly quashed when he sustained an injury, leading to sciatica.
With a sense of Dennis Rodman about him, he still loves to play basketball and work out, and is adventurous when it comes to new food, and enjoys both eating and cooking it. He is also an avid reader, aspiring writer and is fond of playing board games and card games – he even has a gaming license.
A husband and father, Niyi describe himself as "optimistic, spontaneous and adventurous", while others describe him as being energetic.
Peace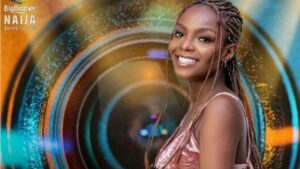 Entrepreneur Peace Ogor, 26, of Port Harcourt. She opened her own clothes boutique because of her unquenchable enthusiasm for fashion and style, which keeps her busy to this day.
She identifies as a "fun, social, adventurous team player" and thinks that her multicultural background makes her personable. Despite the fact that she is constantly on the move, Peace is not afraid to switch off and recharge her social gas by spending time with her family when the chance arises.
Pere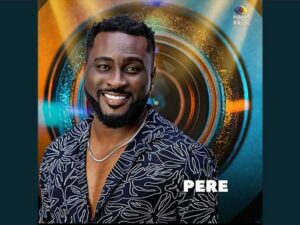 Pere Egbi, the first of two children, was born in Warri, Delta State, and was reared by a single mother.
He sees himself as "a spontaneous, adventurous guy" and holds the view that the only constant in life is change. Pere is a licensed nurse who spent six years in the US military before returning to Nigeria to pursue a real estate business. This attractive 35-year-old also works as a model and actor on the side.
He is inspired by his past and drawn to items of great significance. He wants to use his personal pain to aid in the healing of others because he is an empath. He likes to go out to bars, dance, play video games, write, and go whitewater rafting.
Princess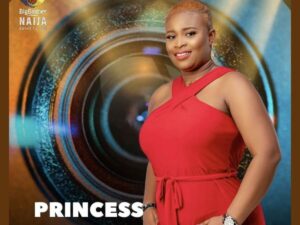 Princess Francis, 30, is a business owner and driver for an e-hailing service. She is from Abuja and likes to watch movies, travel, and cook. She prides herself on being a likable, kind, and enjoyable person, but she acknowledges that she may occasionally be a touch dramatic. She claims, "I got the drama from my mum.
Princess, who hails from Imo State, considers getting her first car to be the apex of her life. On the other hand, the moment she learned that her father had passed away was her lowest.
Princess believes that she is royalty for a variety of reasons, but none more so than her diligence and being a hip New Year's baby!
Saga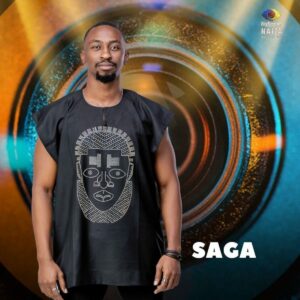 Adeoluwa Okusaga, 28, is a prominent sketch artist best known for his hyper-realistic portraits. Originally from Lagos, he is now employed as an offshore engineer in Port Harcourt. After being amazed that his work could elicit such strong responses from people, he made the decision to devote his efforts to the practice of painting.
His interests outside of sketching include singing, dancing, and working out. He started an online fitness club with members from all around the world as a result of his most recent enthusiasm. He tries to make everyone around him laugh with a few jokes and thinks that having traveled to nearly every part of Nigeria has given him interpersonal communication skills.
The worst experience of his life was losing his mother
Sammie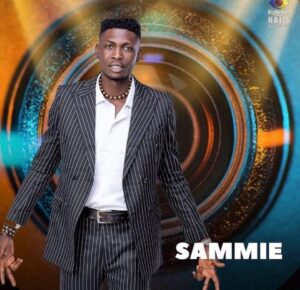 26-year-old Samuel Jacob Alifa is a final-year student at Ahmadu Bello University and an amateur filmmaker.
He describes himself as "tall, beautiful, and charismatic" and enjoys storytelling, videography, basketball, dining, and hanging out. Due to the "excellent discussion" he often receives in his daily conversations, he acknowledges that occasionally he talks too much and ends up gossiping. Despite this, Sammie enjoys interacting with new people and thinks he has a promising future in the film industry.
He made his first short film in 2020, and now he's focused on expanding his YouTube series and advancing his profession.
Saskay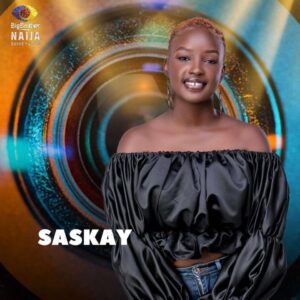 22-year-old Tsakute Jonah is a bookworm and extrovert. She considers herself "an essence of art" and likes listening to all kinds of music. A high point in her life, in her quest to find her place in the world, was realizing her abilities and using them to influence people and enhance her persona.
Saskay, who was expelled from school in 2015, is now a successful fine artist and has even received awards from her university for "Model of the Year" and "Female Personality of the Year."
She enjoys cooking, dancing, and meditation and thinks that a reality television program like Big Brother Naija was created for her personality.
Tega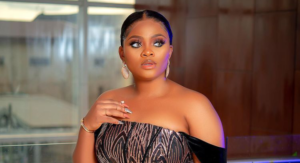 29-year-old Tega Dominic Tega, a company owner and single mother, enjoys DIY projects, dance, travel, and photography. Tega enjoys swimming and being the life of the party when she is not engaged in any of the aforementioned activities.
She considers herself as sociable, eager, and passionate about the things she loves, whereas her "little circle of friends" characterize her as laid-back and a superb cook – although she believes that's arguable. Tega constantly seeks to learn new things and sees challenges as opportunities to advance.
Motherhood is one of Tega's favorite things since it has altered her view on many things and makes her eager to experience whatever life has in store for her.
Whitemoney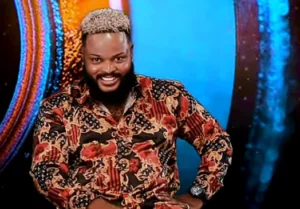 Multitalented Hazel Oyeze Onou characterizes himself as a "jolly good man" who is open-minded and enjoys having fun. He enjoys hustling, driving, watching movies, and playing music. The Enugu State-born, 29-year-old businessman and entrepreneur now lives and works in Lagos. He feels that his "swag speaks for itself" and that he exudes a positive vibe.
His recent launch of his import company for designer shoes marked the high point of his life to date. Whitemoney, who is sensible and grounded, believes that his positive view on life will help him succeed.
He hopes to amuse, have fun, get exposed, and perhaps win the grand prize while in the Big Brother Naija House. He was declared the eventual winner of BB naija 2021 edition after gathering the highest votes from the audience.
Yerins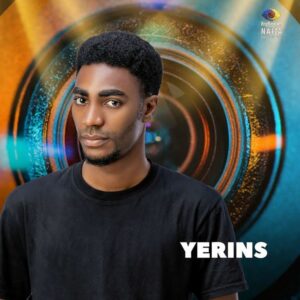 Yerimene Abraham Saibakumo, a doctor, identifies as a perfectionist, creative genius, lover of art, and enthusiast of poetry rap music. His view of himself as a renaissance man who is not limited to a single trade or vocation is admirable.
The 27-year-old likes to create music, play chess, draw, and listen to it. He also intends to publish a book on medicine soon. He describes himself as a fun-loving, creative, and inquisitive individual and claims that his inquisitiveness has enabled him to amass expert knowledge in a variety of industries, including modeling, digital animation, and fashion design.
The happiest moment in Yerin's life was when he received his medical degree from a Ukrainian university and at last got to see his parents after nine years.
Yousef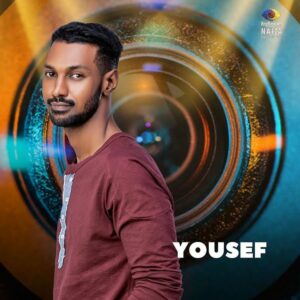 29-year-old Yusuf Garba sees himself as a "soft-spoken, fun-loving, down to earth go-getter" and works as a secondary school teacher. Yousef is a huge food fanatic in addition to enjoying sports, reading, hiking, and traveling.
He also works as a model, host, and personal trainer, and he freely admits that he can't help but stare in the mirror. The highest and lowest points in Yousef's life, respectively, are when he won the Mr. University of Jos and Jos Carnival King titles, and when he lost his cherished aunt.